I just skimmed through a piece on The Escapist about games everyone has to play. It was a short fluff piece for the site and passed over so many good games that it got me thinking....
What would be the games I would give to someone as my "must play" games. The games that I feel best represent what this weird entertainment medium has to offer. Everyone has different tastes and favourites so I am interested to see what everyone else rates as games that everyone needs to experience.
After mulling it over for a while I ended up with a fairly long list 

So seeing as my time is short I figured I would share a couple of must play games here and there and ask you guys what you consider games that every gamer has to play.
Here is the first two:
The Legend of Zelda: Ocarina of Time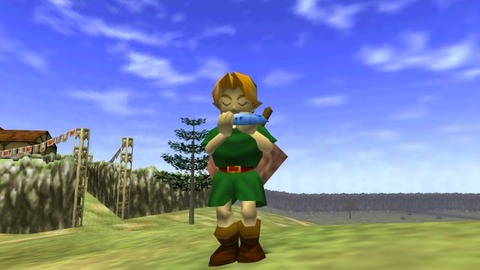 I think it is fair to say that I didn't really know how grand a game could be until I played Ocarina of Time. 
It starts off fairly slow and contained. You learn the basics and you make your way through the first dungeon marvelling at the mechanics and graphics. Then just when you think you have seen it all the game opens up immensely. Each location has its own look and feel, the NPCs are all carefully crafted and look, act and feel unique. The mechanics evolve and get deeper as your arsenal of items grows. Then the game thrusts you forward in time and you need to pick up the pieces of a broken Kingdom and unravel it's true mysteries. By the end of it all it really does feel like you have played through a grand adventure. You come out of this game changed. When I first played it as a kid I learn things and its impact on my life has been immense. It also still brings warm fuzzy feeling into my heart and mind when I think about spending weeks exploring every nook and cranny of this amazing game* and beautiful world.
It is simply amazing and it still holds up when compared to modern games.
*Apart from the Water Temple. That thing needs to die in a fire.
Metal Gear Solid 3: Snake Eater
It is really simple, MGS 3 is the best Metal Gear game and one of the best game of the PS2 generation. 
It is just mind bogglingly good. You can breeze through it on most difficulties, running/gunning and only sneaking at key points in the game which is great. You're able to play the game how you want to a certain extent. But the games' sneaking mechanics make you want to lay flat on the ground in a bush for ten minuets while you figure out the patrol routes and locations of all the guards in an area. You spend hours getting your camo index just right and tending to Snake's many, many, wounds as you make your way through Kojima's Cold War tale.
The story is a mix of the usual MGS conspiracies and giant robots of doom with this great knowing James Bond esque spy story that plays with your expectations right until the end of the game. You experience Naked Snake's journey to becoming Big Boss and how that changes him. You feel it with the actions you take. 
Then there are the boss fights which are all great and different from each other. You can beat one boss either through a traditional encounter with him, sniping him at a particular point in the game were he briefly appears or by simply not playing the game for a week. HOW AWESOME IS THAT?!!! 
There is even one that just involves climbing a really, really, really long ladder and it is absolutely riveting. 
Watch it in all its glory!
So before I ramble on about a couple more games what are you must plays for any self respecting gamer?
Admin




Posts

: 987


Join date

: 2014-08-14


Age

: 31


Location

: Bishop's Stortford



Okami - The best Zelda game that isn't actually a Zelda game ever, if that makes sense.
_________________




Posts

: 686


Join date

: 2014-08-16


Location

: Stourbridge, West Midlands.






Posts

: 970


Join date

: 2014-08-14


Age

: 34


Location

: London



Uncharted 2 - Just about the perfect action game, as good as any blockbuster Hollywood has produced in the last 20 years.

Journey - Mysterious, magical and deeply touching, and proof that videogames can be thoughtful and artistic too.
_________________




Posts

: 686


Join date

: 2014-08-16


Location

: Stourbridge, West Midlands.






Posts

: 449


Join date

: 2014-08-14


Age

: 36


Location

: Surrey



For racing games Forza Motorsport 3.



Posts

: 970


Join date

: 2014-08-14


Age

: 34


Location

: London



It's tricky because the games that resonated with me and shaped my gaming tastes will probably look pretty rubbish to a new gamer. When I show my 8 year old son Youtube videos of my favourite Amstrad and Amiga games he looks at me like I'm not right in the head. However, when I think of Sensible Soccer, Speedball 2, Stunt Car Racer (and probably a load more games beginning with "S") I feel all warm and mushy inside, in my gaming happy place.

So, to introduce somebody to modern gaming I would probably point to Modern Warfare, Dragon Age and/or Mass Effect depending on tastes, Bioshock and the Uncharted series for starters.
_________________



Posts

: 200


Join date

: 2014-08-14


Age

: 46


Location

: Corby



Dark Souls, Demon's Soul [/thread]



Posts

: 320


Join date

: 2014-08-14


Location

: Milton Keynes



A lot of the stuff Id add would be old. For example Streets of Rage 2 and Road rash... love those games



Posts

: 686


Join date

: 2014-08-14




---
Permissions in this forum:
You
cannot
reply to topics in this forum