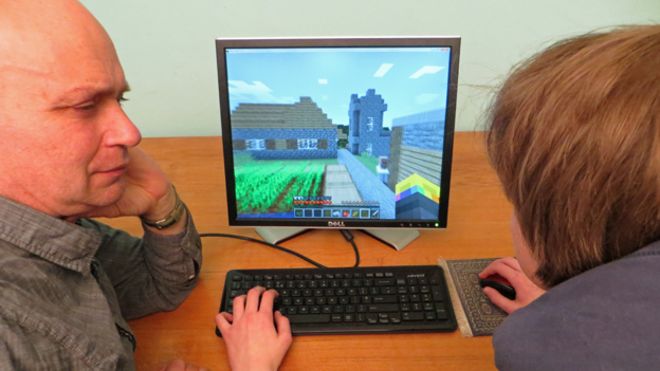 Apologies in advance for the ranty nature of this post!
*Sigh* 
It has been quiet on the wider news media and British Society not understanding video games front recently. Sadly the period of peace is over and once again video games are the cause of all of societies ills...
Well this time it is our inherent fears that the next generation will spiral out of control and cause the collapse of society as we know it because we let them play Minecraft says Jolyon Jenkins in his op/ed piece for BBC News: 
It is a personal account of Jolyon showing the arrogance and ineptitude at navigating modern life that epitomises the older generation's approach to dealing with things. "I do not understand this thing, therefore it must be evil." 
The piece is full of generalisations and is more his own misinformed musings on Minecraft and how his son and his friends interact with it than actual investigative journalism. Included is the now standard "This thing is being used to bully YOUR children" spiel but he does go to some lengths to show the strengths of Minecraft as the entertainment/education juggernaut that it has become. 
In the end though it is full examples of the "grown ups" not doing the job of looking after their children. It paints a picture of bemused and worried parents trapped in a struggle between Minecraft and their children. They just can't stop little Timmy playing it and watching videos about it online (Hint: You can) instead of on TV like they did growing up. 
As ever though, the solution is simple: Pay attention to what your children are doing and get involved in their interests. If you see your kids spend what you deem to be too much time playing video games then give them something else to do! 
The second in this current round of face palm inducing news items is actually a slightly positive one: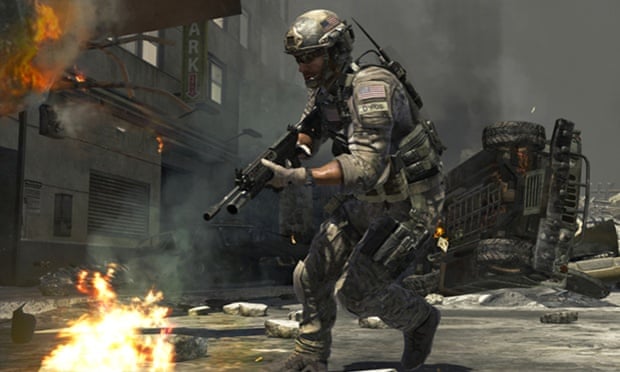 Basically the Nantwich Education Partnership has informed parents that schools will be notifying the Police and Social Services for Parental Neglect if they have grounds to believe people are wilfully letting their children are playing 18 rated games and viewing 18 rated movies. 
It is good because it is actually raising awareness that Call of Duty and GTA V are nowhere near suitable for kids they are given ratings for a reason and more parents need to understand that. It is bad because instead of engaging with parents directly on this and doing something like actually informing them about not giving kids access to inappropriate media they are instead going straight to the authorities. 
Sure it will get results but I'm just thinking of the well-being of the older generation here! 
They don't know any better, we need to have pity on them! 
They keep reminding us that they grew up in a time when all you needed was a stick and a tin can to entertain yourself, while they keep handing their kid the iPad to keep them from having a tantrum. 
They constantly harp on about being able to play outside when they were young while keeping their own children locked up inside in fear of child snatchers that lurk in every bush, shrubbery and dustbin of the UK. 
These things like games and technology are foreign to them! The buttons! The blinking and blonking of the sounds! It is just too hard for them to even begin to understand!
Also included is the usual references to contradicting studies on games causing violent behaviour, the standard images of game characters holding guns doing shooty things (shown above), etc. etc. 
So while both are no way near as bad as the usual attack pieces they still leave a nasty taste in my mouth. The self imposed ignorance of the older generation knows no bounds to me and I fear it can only get worse!
Admin




Posts

: 987


Join date

: 2014-08-14


Age

: 31


Location

: Bishop's Stortford



Ok a few years back... ok maybe a lot I wrote this
http://kerr9000.blog.co.uk/2009/08/23/are-video-games-really-bad-for-children-6800107/
More recently I wrote this
http://kerr9000.blog.co.uk/2015/01/20/moral-panic-after-moral-panic-and-yet-the-world-still-turns-19994500/
My mum had a rule when I was growing up and it was basically I told her I wanted to play a game or watch a film and she would say give me a week... she would find a way to watch the film or play the game and then would decide if I as a person/child was ready for it regardless of its Age Classification. She let me watch Bruce Lee films when I was about 7 because she knew I had gotten the diffrence between fantasy and reality straight in my mind. This is now what I believe in with my daughter.
Me and my girl have a very good relationship and we talk alot about what she plays and what she watches. Most kids her age (13) at her school can play anything but a lot of them have since when they were in infant school... one mum much older and more ''respectable'' than me lets her 13 year old play grand theft auto 5 alone in his room and even let him trade in like 50 percent of his game collection to buy in game credit.... and this kid has in my opinion no idea between the difference between reality and fantasy.. he came to my daughters 10th birthday and thought it was ok to climb on the table and then jump off it onto my head  (yeah im not miserable I have rough housed with relatives kids and stuff but a kid you dont know well thinking thats ok is strange).. 
I also havent let her have a facebook account until she turned 13... because thats the proper rules for it and I wanted to show her some things first (lots of episodes of CatFish for one) and just talk to her about what social networking media is and can be like
I take every film and game on a product by product basis and decide If I think its ok for her.. I have let her play some COD but not others... I told her no way at all for a long time to Modern Warfare 2 but ok to call of duty 3 for example.
Too many people look for something to blame or someone to tell them what to do
T
I think it is a good thing that teachers can now notify social services if parents are allowing their children to play 18-rated games. 

I know we all did it growing up, or sneaked an 18 rated video, but it does seem like parents are willingly giving children 18 rated material, rather than when I would sneakily watch Alien or something when I was younger and feel I got away with it! 

I am confused with the argument against Minecraft though - that seems wholly acceptable for children to me...



Posts

: 970


Join date

: 2014-08-14


Age

: 34


Location

: London



You need to think of the wider implications though... Social services already cant cope with dealing with its case load... so if we dump a bunch of parents and kids in there hands for a kid playing GTA then children who are actually getting beat and sexually abused are even more likely to fall between the cracks. It is also taking power away from parents, its letting the state be the judge and moral guardians of our children's lives ....

The state which already not to long ago tried to tell us what sex acts we can and can not enjoy (Look up when they tried to ban face sitting and all sorts of other stuff). A lot of things that come to pass with these moral panics turn out to be the case of the state trying to push individuals around  ... If you read all the stuff about the Video Nasties there was an idea in there that those in power, and the intelligent elite could see vile images and it was OK but the primitive common man could become insane due to his stupidity and his lack of understanding if he was faced with these films.
I agree about social services probably being overworked, but its still a good thing to introduce. 

But I can't agree with your other point about state censorship. The ratings are there for a reason, and on the whole I agree with them. They are there for guidance, not to be the moral guardian. I am sure you are a responsible parent, Kerr, but the LAW is there for those parents who are too stupid to not be able to make that judgement. 

Like I say, there's a difference between a child sneaking that 18 movie, compared to actively being given it by their parent.

EDIT: I also think your point about video nasties is a bit antiquated. Yes, that was true then, but I'm sure its been a while since there has been any outright ban on material in the UK, and certainly when compared to other countries like Australia. Also, I feel that's a different topic, and not really a fair point on what is suitable for children or not. Most normal parents would not let their child watch The Evil Dead.



Posts

: 970


Join date

: 2014-08-14


Age

: 34


Location

: London



I wasnt saying Id let my kid see the Evil Dead or that there equal its more an example of how sometimes when the goverment and media look at banning or restricting things, causing moral panics etc there are hidden agenda's often its an attempt to keep people in line with there own plans or based on there views of what they see as the poor and stupid.

---
Permissions in this forum:
You
cannot
reply to topics in this forum